Teen Titans is far better than it should be, and it is the silliness is what the world needs now.
Strange that I am writing that about a cartoon.  But the fun and silliness fills each frame, and at times it spills out onto the audience.  Several times I found myself laughing harder than my own seven year old daughter.  There are numerous jokes and references for adults.  Many references for adult comic book or movie geeks.  It is just pure silliness.  And it is wonderful.
The movie opens with Balloon Man attacking the city.  The Teen Titans intervene and try to stop him.  They are annoyed that Balloon Man has Never heard of them.  So they break out their rap theme song, get distracted and Superman, Batman, Wonder Woman, and Green Lantern have to come in and finish up the rescue.  And the Teen Titans wonder why no one takes them seriously.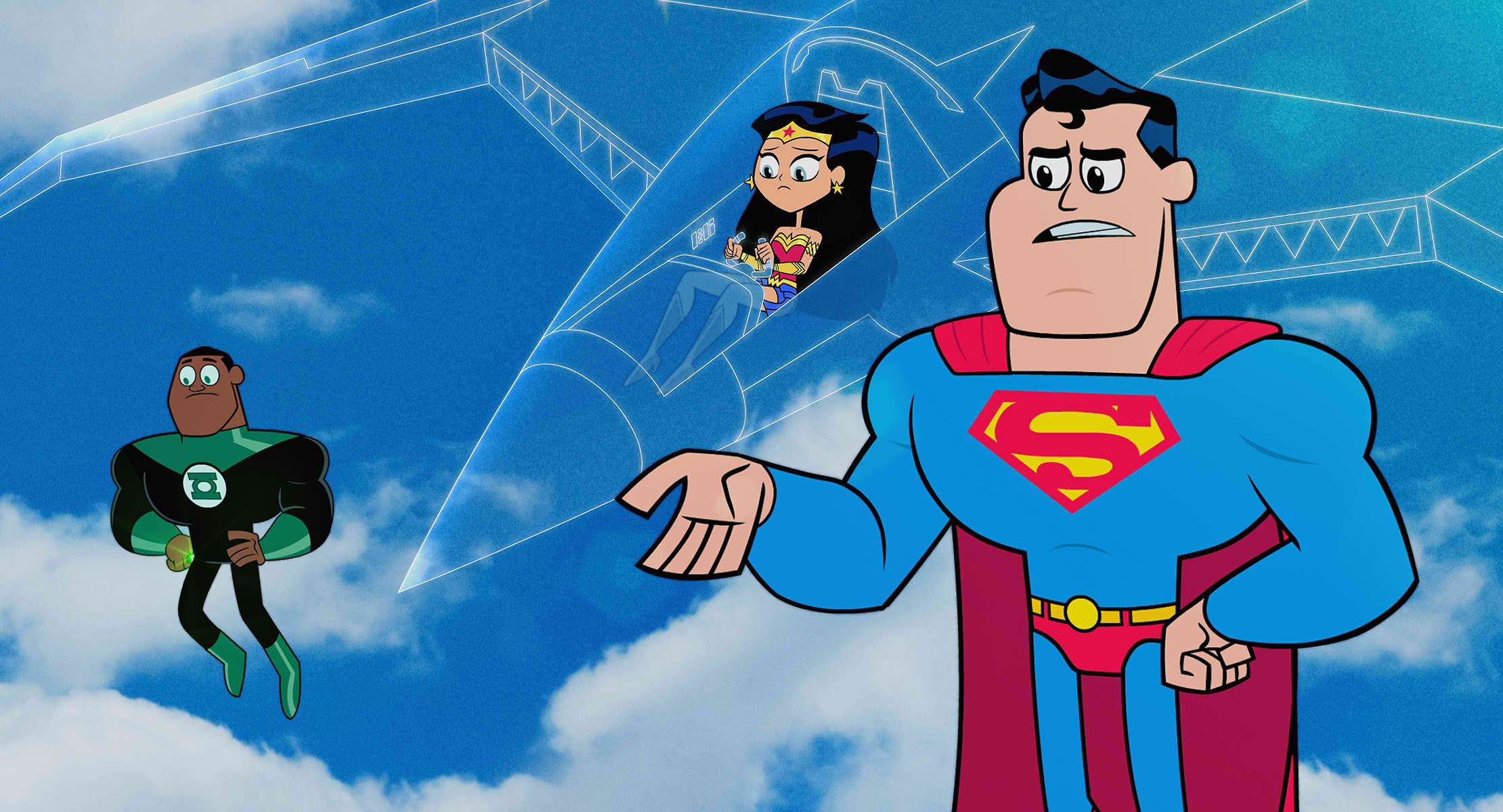 Robin is the leader of the Teen Titans, but everyone else knows him as Batman's sidekick and that designation is keeping him from getting his own movie.  And that is all Robin wants, his own movie.  (Not saving the world, or getting his parents back, but getting his own movie is the motivation that this Robin has.)  Every other superhero in this universe gets their own superhero movie—even the Batmobile and Bat Utility Belt get their own movie.  Robin and the Teen Titians go to see the premiere of the next Batman movie, Batman Again.  And during pre-show the director Jade Wilson, voiced by Kristen Bell, comes out to introduce all the new superhero movies, and Robin is eager for his moment in the spotlight.  But after trailers for Alfred, the Batmobile, and the Bat Utility Belt, Robin runs out ashamed.
Robin next day heads to the set to ask Jade Wilson for his own movie, and Robin learns that he needs his own nemesis.  Batman has the Joker, Superman Lex Luthor, but Robin does not have one.
Then one day he meets Slade.  Slaaaddddeeee….(The name must sound cool.)
Slade looks like Deadpool, but Deadpool is in the Marvel Universe and this is the D.C. Universe.
The one day Robin actually stops Slade, but it isn't enough.
Robin realizes that he needs to stop all the other superheros from ever happening.  So The Teen Titans get on time traveling tricycles.  Yes, time-traveling tricycles, complete with Back to the Future sound track.
The movie continues with ever increasing comic timing and silliness as they battle Slade.  (Slaaaaaadddddde….)
Nicolas Cage voices Superman, which is subtle reference to the Tim Burton, Superman movie Superman Lives that Cage was suppose to play Superman, but it never was finished.
Nevermind that this is a DC property Stan Lee makes a couple of wonderful appearances.
Final Thoughts
If your child watches the show, they will enjoy this movie.  If you enjoy comic book movies, you will enjoy this one as it deftly skewers comic book troupes.
I would recommend catching this in the theater with your kid.  If not then, definitely use a Netflix disc rental on this one.