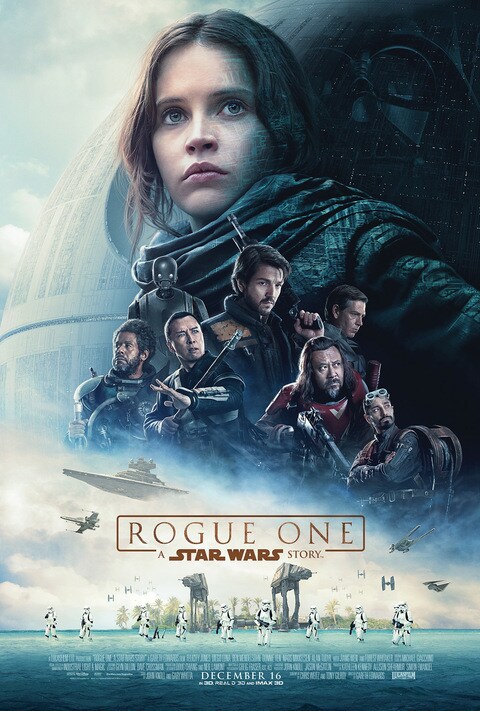 Star Wars is in many ways unreviewable.
People will go to see it, no matter what is written about it. People will see it just to be a part of the cultural aspect of it.
But, still here I write.
Rogue One is a prequel. Not the infamous Prequels that Lucas made, but a prequel none the less, and that leaves it with problems from the get go. You already know how the movie is going to end.  We know that the Rebels at the start of A New Hope had gotten stolen plans on how the Death Star worked. It was in the opening the crawl. This entire movie is an introduction to another movie.
Because this isn't an episode, there is no opening crawl. Which makes sense, considering that this movie is the opening crawl for the next movie.
We do get the iconic "A long time ago in a Galaxy Far Far Away…"
The opening scene we are introduced to Galen Erso, Lyra Erso, and the main character Jyn Erso played by Felicity Jones. It during this scene that I believe we get the first Star Wars Meta reference. A Death Trooper picks a Stormtrooper doll. I enjoyed that touch.
Soon after Jyn's father is capture and mother is killed we skipped ahead apparently 12 years or so, and we find Jyn is in prison. Now, why she is in prison, like a lot of plot points, in this movie is never mentioned. And this prison cell is dirty, unlike Leia's prison room in the Death Star in the original Star Wars. We also hear prisoners being tortured from a far.
This is Star Wars with the emphasis on the War part.
Soon after, for whatever reason as we are never told why, Jyn is being transferred to a labor camp planet, and here we find the most honest detail in a Star Wars movie—an exhausted Stormtrooper. He sits there looking at the floor, his elbows on his knees.  The Stormtrooper is clearly a dude who is exhausted and just doing his job. And in a few seconds he is going to be killed, as Jyn is rescued by Cassian Andor and his droid K-2SO. That is part of the job description of a Stormtrooper—getting killed.
The forced humor
The Humor isn't Jar-Jar Binks level, not even close, but it is still forced.  And it comes only through droid K-2S0. You have to ask, why is a droid the only one around with a sense of humor? While everyone else is walking around with depressed and angry. Who was the clever person that programmed K-2? Was he or she killed? Why isn't he or she around?
The problem with a prequel is that you already know where the story is going.  You may not know exactly what is going to happen on the way, but you do know where the story is going, and takes some the of the interest away.
Yes, Vader is in it.
But he didn't need to be.  Why does Crinnic need to travel to Mustofar to visit with Vader one on one?  Doesn't this universe have long distance holographic communication?  Wouldn't that be safer for Krinnic, because he wouldn't be inconveincing Vader?  And yes, there is a very intense scene at the end where Vader kills several rebel soldiers.  This where the story changes differ from the original Star Wars.  In the original movie, Leia says that she is a part of a diplomatic mission.  Kinda hard to make that lie now, when Vader actually watches you rip your ship away from his ship.
A better movie would have used Vader in the background, not put him out front.
Star Wars brings back cutting edge technology.
Bringing Peter Cushing back with the combination of an actor and CGI was landmark work. Being a Star Wars nerd I clearly knew that this was CGI. I knew that Cushing has passed away  in 1994, so anytime his character Grand Moff Tarkin. It really was great, and the reason I know that is that other people, i.e. non-Star Wars fanatics didn't realized that the character was CGI, they didn't know any better. That's the goal. The only reason we know that Tarkin is CGI, is because we know the actor is dead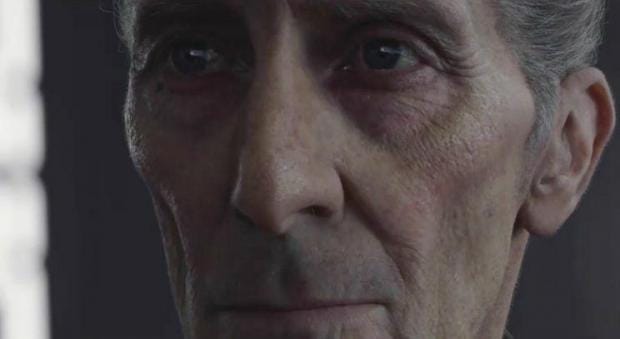 Even the young Carrie Fisher scene was beyond belief. Why do I think this? As I walked out the movie I heard one parton explain to who seemed to be his mother, that it wasn't a look alike actress. It fooled regular movie goers. That is mind-blowing.
Overall, Rogue One is clearly an exercise in treading water while we wait to see Episode 8 where the story will continue to a place where we don't know what is going to happen and that is much more interesting.